An idea on how to autoblog with TYPO3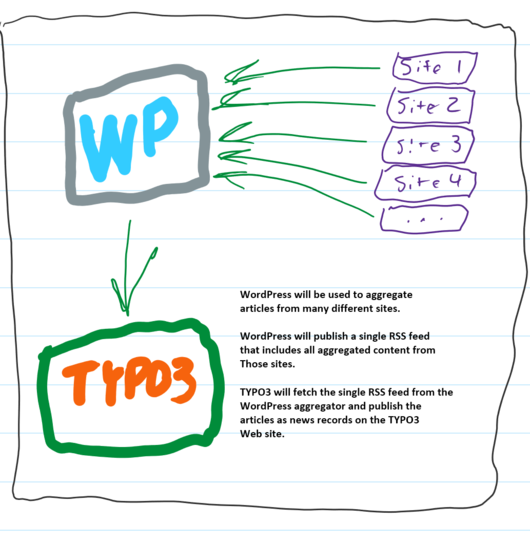 I like the idea of autoblogging, which means publishing content from other sources automatically. Usually people who autoblog will republish RSS feeds from other sites. There are legal ways and illegal ways to do this. I'm only interested in legal content, but I'm not going to discuss this.
TYPO3 doesn't really have an autoblogging extension. I wish it did, but this is an enterprise CMS, and there's not a lot of enterprise autoblogging going on. So I guess that people who use TYPO3 don't need an autoblogging extention.
There are some RSS feed fetching extensions for TYPO3 that work pretty good. I've used some in the past. What these extensions do is they fetch an RSS feed as specified intervals and then publish the RSS content to news articles. These extensions have been pretty good when they're tuned in right, but they're not that versatile for autoblogging because they're not designed for autoblogging and aggregating many different RSS feeds from many different web sites.
But Wordpress has a lot of good autoblogging plugins. I don't particularly enjoy using Wordpress, but boy do they have a lot of plugins - very good ones - that are created just for autoblogging.
So here's my plan: rather than make TYPO3 directly do autoblogging, I could set up an instance of Wordpress with an autoblogging plugin to pull articles from many different sources, and then I'll use TYPO3 to pull a single RSS feed from the Wordpress autoblog site. The single RSS feed from the Wordpress autoblog will have everything needed for TYPO3 to put all of the autoblogged posts into TYPO3. That's what I want.
My proposed solution isn't really a TYPO3 solution, but the end result would be the same, but without a lot of work. And that's how I like to do things.
But I'm really interested in getting some content from good sources to supplement my site. I think autoblogging can be done in a bad way, and it can be done in a good way. I aim to do it in a good way that increases the quality of my site, rather than the bad way that makes my site into a poor quality site.